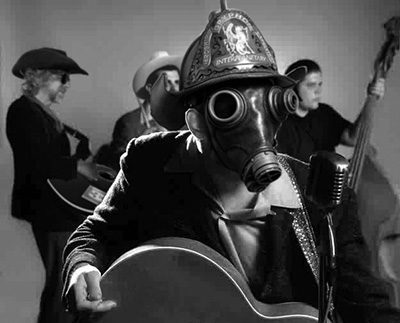 Eccentric good-times music that both embraces and parodies rock culture at its American roots. Naked & Shameless are a stripped down unit with plenty of jump. Captain Peter Naked and co-pilot Dave Shameless will bring you the freshest renditions of the choicest selections to bring you to cruising altitude: the well-loved Shameless-penned originals and mischievous covers. And with the recent addition of the Riverside Rhythm Section, your butt can now go where your mind won't follow.
Origins
The original duo of Jim Naked & Dave Shameless burbled on the edge of Vancouver (Canada) alt/indie scene, an alcohol-fueled bohemian lounge happening centered around Jim's epic rants. Increasingly confrontational antics and a trail of broken windows, chairs, and glassware made performances less frequent as Jim struggled under the pressures of his personal life. Jim's final performance consisted of him half-napping on a stool, waiting for his muse to strike, while Dave provided his background accompaniment. After half an hour passed, Jim shot awake, threw his arms in the air and yelled, "suck my cock!" and immediately passed out. Not long after, Jim packed his bags and has been a citizen of the world ever since. Meanwhile, Dave played sideman in a bunch of combos and eventually played solo sets that mixed odd country-lounge versions of popular songs mixed with mischievous originals. Eventually, Dave also packed his bags and left to see the world.
Dave drifted for several years before landing in Chicago through the auspices of the ambitious and delusional impressario, Skidd Wong, and a new Naked in the form of Buck F.
After a promising start that included the official debut 13 Drinking Songs and the sophomore jinxed Sexxxy Americanz, Naked & Shameless went into semi-hibernation when Buck F. moved to Indiana for a few years. On his return to Chicago, there was a string of EPs and a vinyl 7" leading up to the third album Mayberry STD which was followed by Whiskey Tango Foxtrot. Somewhere in between tours they relocated to Los Angeles.
In June of 2010, Buck F. married his life long love, Beer. During the following year, Naked & Shameless hosted the monthly series of Tiki Tonk shows in Long Beach, CA. Eventually, it became obvious that Buck and Beer needed to ride off into the sunset, opening the door for an expanded duo.
###